Driving Innovative
cyber, Cloud and modernization solutions
for BUSINESS TRANSFORMATION
What we do
Sure Secure Solutions brings superior past performance in support of federal government clients. As a small business, our focus is to provide the most talented and driven teams to some phenomenal clients. These teams provide quality services with a focused and innovative approach on emerging technologies in order to improve infrastructure, reduce costs and help keep you secure.
We deliver innovative solutions in cloud architecture, web applications development, portfolio management, data analytics, and IT security.
Award – Winning Services
AWARDS WON BY SURESECURE
2021 NASA Mentor-Protege Award
NSSC Mentor-Protege Agreement of the Year (Leidos & Sure Secure Solutions)
2019 & 2017
NASA Small Business Industry Award Winner
NSSC Prime Contractor of the Year
2017 & 2016
NASA Small Business Prime Contractor
HQ Prime Contractor of the Year
2016
SBA Small Business
Regional Prime Contractor of the Year
Services & Solutions
Proudly serving award-winning innovative solutions

At Sure Secure Solutions, we tackle cyber threats with a comprehensive approach that is proactive. Our results driven SME's not only embrace your mission, we help enable it. Discover how we help our clients enhance cyber operations and secure your systems.

Sure Secure brings more than a decade of cloud computing expertise providing modernization solutions for improving our customers' infrastructure, security services, and performance of web services using proven best practices and industry standards.

As the trend continues for agencies and businesses to focus on CX and invest in the creation and design of intranet and external facing user interface (UI) toolkits and web presences which build unity within their own digital brand, they often lack the resourcing.

Sure Secure Solutions delivers a broad range of innovative, next-generation IT solutions and professional services to help clients become data-driven organizations with insights for more informed decision-making via analytics.

Our Information Management and Data Analytics team of experts helps identify and compile exploratory, investigative and mandated security information to provide custom reports for high level quick business and tactical decisions.

Sure Secure Solutions is fueled by trusted subject matter experts in the federal and private sector. Our teams directly report to OCIO's and government leaders to improve digital transformation, operate with agility, and modernize efficiently.
Who we have worked with
PROUDLY SERVED GOVERNMENT AND PRIVATE SECTOR
At Sure Secure our commitment to clients is reflected in our award-winning innovative solutions and customer recognition. Our greatest pride however comes not from these designations, but the teamwork, trust and relationships behind it. We take people that matter to places that matter.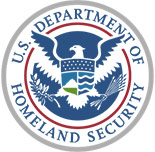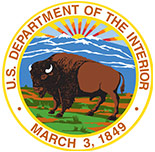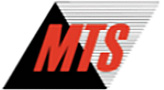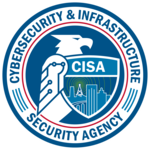 What Our Customers Say
actions speak louder than words
The Sure Secure team has proven to be highly valuable assets to the Web Services Office(WSO) and continue to show worth in many ways. They have continued to provide excellent technical review and analysis of Web Services customer requirements, proposed technical approaches to fulfilling requirements, and the WESTPrime technical environment and operational plans, with a keen eye for finding opportunities to reduce costs, improve efficiency, and improve customer service.
Client COR
Sure Secure has continued to provide prompt, high-quality web application development support and customer service support… their understanding of the capabilities of the [SaaS] product and learning how to put it to best use. They also quickly and effectively work to address technical issues with tools that impact the customer's ability to chieve their objectives.
Client COR
Within a short period of time, Sure Secure staff was able to validate, merge, and improve the vast amounts of data received by DHS as well as …SOC data scans. This complex merging of data from various sources resulted in a readable data format provided to [Agency teams] so that these …[vulnerabilities] can be fixed.
Client Program Manager
I just want to take a minute to express my appreciation for you and all you do for me and my program.  You have made a difference more than you think.  Thanks for your support, professionalism, and accessibility.  Thanks for creating a government-contractor relationship that is healthy and productive for both sides.
Contracting Officer Representative ~(COR)
We are all very grateful for the incredible support your team brings to our side. Thank you for what has been and what will be. We look forward to a continued long-term relationship.
Client CIO
CEO BLOG
GET AN INSIDE EDITION TO THE MUSINGS OF OUR CEO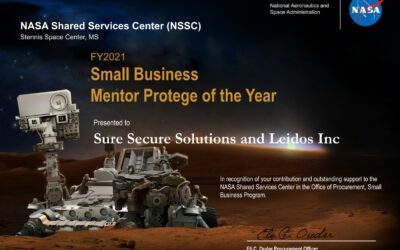 I am proud to share that Sure Secure Solutions has been awarded the Mentor-Protégé Agreement of the Year at the NASA – National Aeronautics and Space Administration Shared Services Center with our partner Leidos.
want to Discover
What we can do for you?