In my Out of Office POV series, I share all the things that influence my leadership outside of my role as CEO of Sure Secure Solutions. Enjoy my post!
As a CEO, you are constantly battling conflicting priorities, triaging what to tackle in your growth strategy, or creating an engaging culture for your people. In fact, if I tried to count the number of times I was sleep deprived from late nights, last minutes deadlines, or personnel issues, I'd be sitting here forever. This, however, has never stopped me from committing to valuable non-profit work, nor should the limited hours in a day stop you.
Not only is civic engagement, non-profit work, or volunteering a way to give back to the community, but it also sets an example for values and culture. I encourage everyone on my team to seek out opportunities that bring meaning and purpose to them outside of work to demonstrate their commitment to community and spread good. Before you invest in your cause, make sure you have the capacity to give your involvement, whatever it may be, the dedication it requires.
In this vein, I have often thought about how an education empowered me to leave the country of my birth, Pakistan, with my three little ones and start all over in a new country. While I'm passionate about the importance of a quality education and how it enabled my achievements and even entrepreneurial pursuits, I couldn't dedicate myself to this cause on top of my several engagements as past President of OPEN DC (DC Chapter for Entrepreneurs) or serving as the DC Chair of the Shaukat Khaunum Fund and a few others.
Dedication doesn't necessarily mean that you start you own non-profit, it can be through donations and support, volunteer work or even as a trusted advisor. In fact, during moments of an existential crisis, when I have found myself wondering the world problems I'd like to solve, I'd disappoint myself with the realization that I didn't have the bandwidth to pursue all the things that I'd want to. This is where my amazing network comes into play. Not only are my friends and colleagues well respected entrepreneurs, but they too are dedicated to certain causes which enable me to contribute in different ways through their leadership.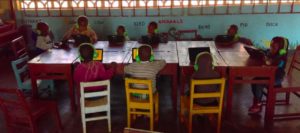 Lucky for me, my good friends, Shafiq Khan and Imran Sayeed started the Teach the World Foundation (TTWF) five years back, a non-profit to address a global educational crisis which finds that every 2 out of 7 people in the world are illiterate. The Foundation creates programs that leverage digital learning, encourage self-learning, and deploy rapid and cost-effectivesolutions to kids in areas that would not otherwise receive an education. While it isn't my own start-up, I am extremely proud to serve on TTWF's Board of Directors to help forward their cause for In-School, Micro-School and Smart-Phone programs in Sri Lanka, Bangladesh and Pakistan. Working with TTWF has given me the privilege to see what happens when great minds, entrepreneurs, and thought leaders come together to solve problems.
No alt text provided for this image
Giving back for me hasn't only been about appreciating your purpose—it's an opportunity to find out what motivates those around me and allows me to better connect to them. It's a truly wonderful feeling for me to better understand what inspires my friends, what causes are close to them and what they actively do to address them. I use this spirit within Sure Secure to also learn more about my team. In fact, when we have our annual team volunteer activity, I always encourage someone new to pick where the team will volunteer—it's a great team building exercise as well as opportunity for discovery.
Let's see what my team picks for 2021!
-Narjis Ali, CEO Sure Secure Solutions
About Sure Secure Solutions
A leader in providing innovative IT solutions to the federal government and private sector, Sure Secure is a woman-owned small business specializing in cloud services, web development, cybersecurity, and data analytics. Sure Secure is the Managing Venture for the Secure Shiva JV on GSA Stars 2. A services provider to an array of federal clients including NASA, USDA, CBP, FEMA and the U.S. Army, Sure Secure Solutions has been recognized as the Small Business Prime Contractor several times and also received the Outstanding Performance Award by the NASA Chief Engineer. Sure Secure Solutions is also the Small Business Prime Contractor of the Year 2016 for SBA Region 3.